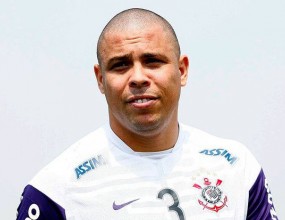 Career of a great player comes to an end. Brazilian striker Ronaldo said he planned to play until the end of 2011, and then will announce his retirement from active business. Before this happens, however, Ronaldo wants to lift another trophy - the Copa Libertadores.

"My idea is to drop in December next year. Corinthians is surely my last team," said No. 1 scorer in World Championships in an interview for "Globo".

Former superstar Barcelona, Inter and Real (Madrid) was sidelined for almost five months because of various injuries, but is ready to gather strength and to enjoy some time with his appearances fans club Sao Paulo.

"2010 was very difficult for me to ensure that all injuries, but again I want to deserve the love of the fans of Corinthians. To play one more year will test for my body, but I owe the fans," said Ronaldo.

"Copa Libertadores is my last big goal," he 34-year-old virtuoso, who is determined to lift the most prestigious club prize in South America.

Currently Corinthians is second in the Campeonato Brasileiro - a position which entitles him to participate in the South American equivalent of the Champions League.