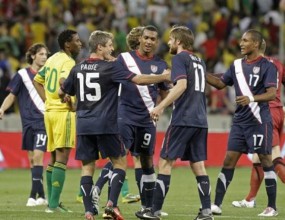 The national team beat the U.S. by 1:0 as a guest host that took place during the summer World Cup in South Africa friendly match. The victory brought the Americans 17-year-old debutant Juan Agudelo. Colombia-born striker New York Red Bulls scored in 85 th minute after an assist on another rookie team of U.S. - born in Norway Mikel Diskerud. The teenager sent the ball into the opponent's net with a shot from the border of the goalie box, leather ball hit the crossbar before going golliniyata.
With this goal Agudelo, who next Tuesday turns 18 years record in history as the youngest player to score a goal for the national team the United States. The teenager appeared in the game as a substitute in the second half. Youngster has only recently begun to receive greater chance for appearance in the New York Red Bulls after French star Thierry Henry was injured.
This was the third match between the U.S. and South Africa, Bafana Bafana as yet no victory over the Americans.