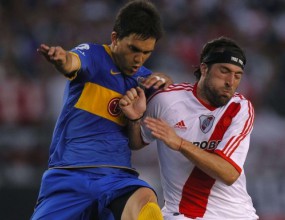 River Plate's team won with a minimum 1:0 superderbito Argentina against their eternal enemy Boca Juniors. The only goal of a packed 65,000 fans of both teams stadium El Monumental "fell in 54 minutes, and accurate to the success of the hosts was Zhonatan Raymond Maidan.
Both teams took to the pitch with the best available to them. Members of the river showing the names of Matthias and Ariel Ortega Almeida, a team of Boca was led by their stars Martin Palermo and Juan Roman Riquelme. Playmaker of the guests, however, have to leave the pitch early in the second half after feeling pain and could not continue.
River Plate's players dominated most of the match. The team created many scoring opportunities during the first part and the most serious omission was the account of Ariel Ortega.
At the beginning of the second part of the river continued pressure and first Lamela make dangerous shot from foul with difficulty saved by goalkeeper Javier Garcia, in a 54-minute logical happen and the result was found. Then after a nice header from a corner kick, Maidan was released from the protection and the head sent the ball into the door of 1:0. Curiously, this was the first goal of this player for River Plate, after the last three seasons he wore a particular team Boca Juniors, but the beginning of this switch in the eternal rival.
By the end of the match River slow down, but players score and were unable to benefit and to organize serious pressure. So the meeting ended with a deserved success River, which end a run of five straight losses to teams in superklasiko. This victory did the team climbed to 8 th position in the standings with 21 points. Boca do remain in the bottom half of the table on 15 th place with 17 points.
Drivers in the standings remain Velez Sarsfield and Estudiantes with 30 points.