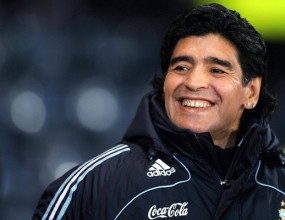 In Argentina and Naples worship him! The same can be said for a large percentage of the rest of the globe. In England you have a crook and never forget God's hand. Others also do not like it because sometimes bluntly behavior. The dispute whether he or Pele is the greatest name in football history will probably never be solved! While once the world met Argentine challenge with Platini, Zico and Rummenigge, and then with Van Basten, Baggio Matthaus and his name somehow placed the rest in the shade, though they were great. Naturally, it was a Diego Armando Maradona.

Legendary Argentinean today celebrates its half centenary. To illustrate the genius of the former ten is fancy enough to take a look on that his illustrious run of half the playing field and dribbling in his enchanted footballers in England in 1986. Of course, career and life of Don Diego not only fits in one quarter of legendary "Aztec", but that God's hand and Goals of the century reflect the views and feelings that Maradona has left the people - his controversial personality.


The career of former national coach of the Los Argentina "can take an example and eternal and incessant desire to win. Win at any cost. Because Don Diego did not like to lose, but no - cried like a child when the Germans took his golden cup in Rome.

Whether the former megastar of Argentina and Napoli is the greatest player on the planet of all time is really infinitely harder to quantify. But surely as players to be popped as new talent to blossom, the name of Maradona remains and will remain across most classes.