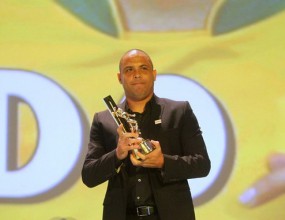 Brazilian footballer Ronaldo said he would make efforts in 2011 will play with a shirt of Corinthians, and then will end his career.

"Football is my passion, but I play from the age of 16 and began to feel jaded. However, I will make final push next year. We started in 2011 as if it was the first year of my career.'ll concentrate maximum and I hope that this will be a good year without injuries. This last year will be like a thank you for everything that I have received from Brazilians, "said 34-year-old Ronaldo at a news conference in Rio de Janeiro.

El phenomenon, "as they call Ronaldo has played in the best European teams: Real (Madrid), Barcelona, Inter (Milan) and AC Milan. Ronaldo has twice won the Golden Ball for best player of Europe (1997 and 2002) and three times the number 1 player of the FIFA (1996.1997 and 2002). Ronaldo double world champion with the Brazilian national team - in 1994 in the U.S. and in 2002 in Korea and Japan, where is the 2002 World Cup scorer.