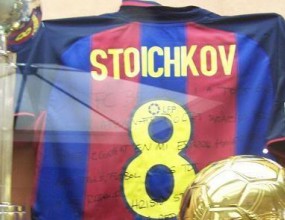 Stoichkov played 73 minutes in the derby between Atletico Sanluketsa town and Huventud. At 1:2 Fall, and he was replaced shortly before the end of the match. Unfortunately for fans of soccer but Huventud not megastar of Bulgaria and Barcelona, and Jose Varela Ardilya Israel. He was born on March 18, 1983 in Cadiz and play as a left winger.

Jose reminded a lot about style dagger and because fans called it Stoichkov, the newspaper "24 hours". He even decided to become famous just by that name and it appears on his team.

Since the beginning of the season-lying Stoichkov played in 3 games for his team's total of 99 minutes and scored 1 goal. Team Varela to hang around the Spanish lower divisions.