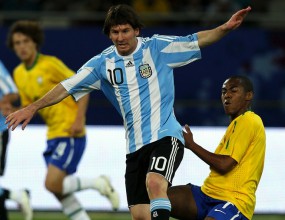 Argentina beat Brazil 1:0 in control, staged in Doha today before 49,000 spectators. In the 91st minute brought success Lionel Messi, who threw in ecstasy Argentina. Goal was in Leo style - "dozens" departed from the right wing, passed through several defenders little left of the door with a nice diagonal ball to kick entangled beam. The classics did not meet high expectations: not seen many skillful plays, there is not no magic despite the presence of football masters. Both teams are reported with a beam, healthy battle on the pitch and goal seconds before the final strongly criticized at home football genius.
Brazil coach Mano Menezesh out for fourth win from four controls after the dismissal of Carlos Dunga. Ronaldinho returned to the "golden" after 19-month absence. Los Argentina "wanted to beat his great rival, hoping to attack barselonetsa Lionel Andres Messi and madridistite Gonzalo Higuain and Angel Di Maria.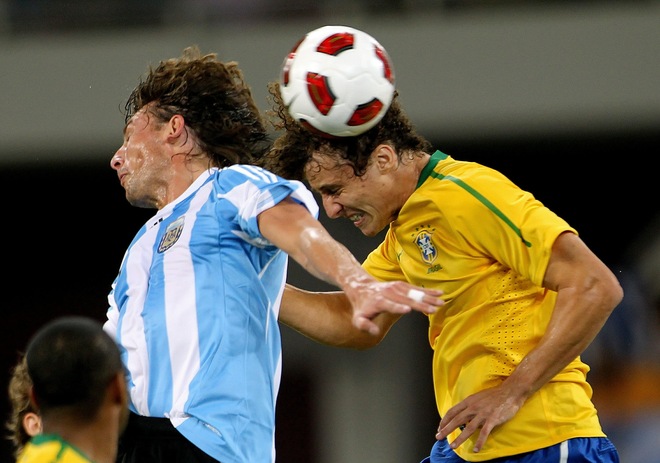 Better stepped on the pitch the Brazilians and the "blue sky" walked in timidly.
In the fifth minute when Ronaldinho fails better position than a foul and a minute later, Javier Zanetti shoot low, but Victor catches.
The 14-minute Elian was one step away from goal, but confused at first touch.
Five later Daniel Alves natseli crossbar after osemmetrov kick zhdrob.

Gradually the boys Sergio Batista evened the game.
The 29-minute Gonzalo Higuain natseli beam, but the referee ruled a clear offside.
In 39 th Lionel Messi prastranstvo obtain, shoot creepy than 20 meters and the ball licked assembly.
The ball was kicked at a speed of 100 kmh.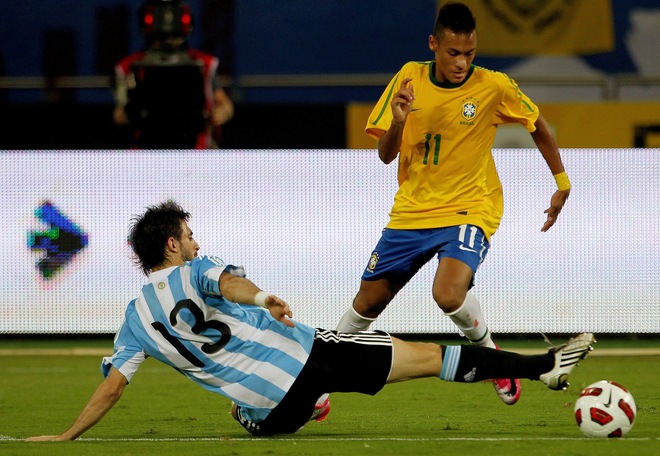 More acute were the shares of Brazil in the first half but in general lacked clear scoring situations, although the "golden" 11 headed buffoon.

More aggressive Argentines started the second half.
Esekiel Lavezzi substitute Gonzalo Higuain.
In 58 minutes the ball hit the hands of Thiago Silva after shot of the Cleric.
The judge, however, continue the game.
In 63 th Robinho low diagonal shot, but the flag was raised the side judge.
Violations are frequent in the second half, but the dangers were rare.
In the 73-minute Ronaldinho, who showed no magic, gave way to Douglas.
The most creative for the young striker was Selesao Neymar.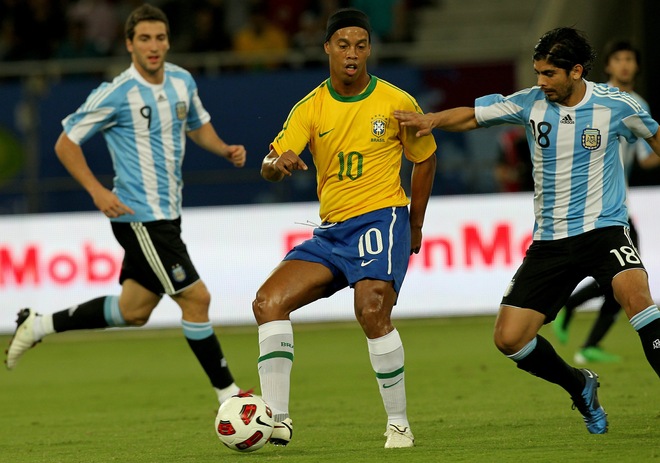 In the last ten minutes both teams zhivnaha.
Lionel Messi overcame three players, but was stopped by Thiago Silva.
Shot from the master of Brazilians Robinho did mine of feet above the crossbar.
In the 91st minute, when everyone expected the end, Leo Messi broke out and scored in his typical style.
Goalscorers Barcelona enters from right to left wing and a diagonal low shot victory and bring joy to the whole of Argentina.

So "albiseleste" prevailed his great rival, albeit in a control meeting.
Lionel Messi scored even one of his few crucial goals for the national and win over ordinary people of Argentina.
"Sky" will win over Brazil on June 8, 2005 onwards.

Minute by minute

Brazil: Victor; Alves, Thiago Silva, David Luis, Andres Santos, Lukas, Ramiresh (85 - Zhusiley), Eliana, Ronaldinho (73 - Douglas), Robinho, Neymar (77 - Andre);
Coach: Mano Menezesh
Argentina: Romero; Zanetti, burning, Burdisso, Heinze, Banega, Mascherano, Cleric (70 - D'Alesandro), Messi, Higuain (46 - Lavezzi), Di Maria;
Coach: Sergio Batista
Yellow cards: Mascherano (A);
Referee: Abdullah Balideh
Stadium: "Khalifa, Doha