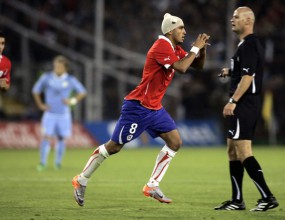 The national team of Chile wins with 2:0 as the host of the 2010 World Cup polufinalista Uruguay in control meeting. This was the last match of Marcelo Bielsa head of Chileans. Goals for the winners celebrated Alexis Sanchez in the 38 th minute, Arturo Vidal in 74 th. "Urusite" played more than one half with a man less, once in the 41-minute Walter Gargano with a red card for a rough foul on Mark Gonzalez.
Marcelo Bielsa, who took over the team in 2007, announced he would leave his post if the president of the Football Association elected the country Spanish businessman Jorge Segovia. Bielsa supported the incumbent President Harold Nichols-Maine, who appointed coach of Chile, but the elections were won by Segovia. Stadium "Monumental in Santiago attended by 40,000 spectators and many of them wore black shirts in a show of disappointment that Argentina is divided by a specialist team.
Under the leadership of Bielsa Chile played 50 games and recording 28 wins, 7 draws and 15 losses. Bielsa Chile ranks of World Cup 2010 in South Africa, which was first appearance for the team after the World Cup championship in France in 1998. In South Africa, Chile overcame a group stage, but met Brazil in second round and was eliminated.