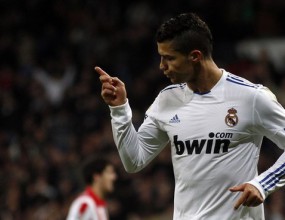 Real Madrid beat strongly with 5:1 Athletic Bilbao in a meeting of 12 th round of La Liga, played at the Bernabeu. Gonzalo Higuain scored in 19 th minute after a pass to Di Maria for the first good opportunity to "white". Cristiano Ronaldo doubled in the 30 th. Ten later Fernando Yorente reduced. In 57 th Sergio Ramos scored from the penalty spot for 3:1. In the 62nd Cristiano stuffed Gorka free throws for a new goal. In 90 th Portuguese shaped hat-trick and again headed out in realiztorite in La Liga. So Madrid will go to Camp Nou after a week as a leader in the championship.

Penalties Jose Mourinho sort usual 11 in the traditional system 4-2-3-1. Gonzalo Higuain led the attack, supported by Cristiano Ronaldo, Mesut Jozias and Angel Di Maria. Members of the Basque eyes focused on the "nine" Fernando Yorente and behind it acted Markell Susaeta, Iker Muniain and yoke Gabilondo.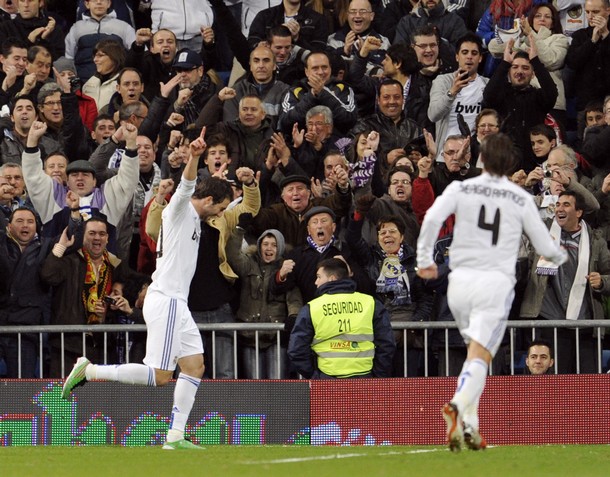 Scary for Bernabeu began meeting. More in the second minute Yorente masterfully played Ricardo Carvalho and Sammy Kedira, Iker Casillas overcome, but Pepe slew of golliniyata. Gradually los merenges "mastered the initiative and imposed pressure. In 19 minutes a nice pass from Gonzalo Higuain allow Pi ppi to shoot very accurately to the beam of 1:0. Yorente remind myself in 29 minutes with a quick feint and powerful shot, as reflected by Casillas. A minute later gave Mesut Jozias pass to Cristiano who shoot excellent low down to 2:0. Seconds later overcame CR7 Gorka Iraisos but distort its ravnosvesieto.

The 40-minute "lions" are back in the match with a controversial goal. Doubts about two ambushes did not stop the judge to respect the proper performance of Fernando Yorente. Andoni Iraola could not shoot, but get a pass to the handsome striker who mercilessly entangled ball in the high part of the network. Overall in the first half both teams showed sharpness in attack, but more opportunities created "white".

Challenged and began the second part of the collision. Susaeta dangerous shoot in 54 minutes, but Iker wineries. A minute later Angel Di Maria was cast to the earth by the same Susaeta. Unusual for a shoot stood Sergio Ramos, who is not confused - 3:1. In the 62nd Ronaldo perform for 4:1 after completion of the free kick. The ball spun strange and watchman Iraisos not consider trajectory.

By the end of the match there and positions of both doors. In the 87 th Javier Martinez hit crossbar after melle. In the 92nd Esteban Granero was stumbled and Real Madrid get a second penalty. Cristiano Ronaldo twice stopped, scoring in the network, but had to beat penalty. In the new implementation, it materialize, forming a hat-trick for the final 5:1.

So Real Madrid over Barca before El Clasico, and Cristiano - over Messi for goalscorers.