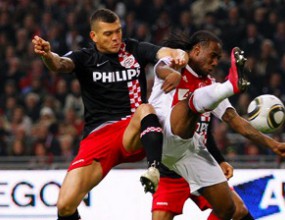 Derby next round of the Dutch Eredivisie between Ajax and PSV do not tie, but the final 0:0 surely at least a little smile has returned to the current champions of Twente. Niki Mihaylov's team lost 1:2 at home to AZ Alkmaar and seriously risked falling behind the provisional leader PSV. Now the difference between both teams is 3 points in favor of Philips, and Ajax is third, with EA.

The Amsterdam Arena Bulgarian national Stanislav Manolev remained on the bench for PSV after recently healed injury and coach Fred Ruten prefer to bet on Atiba Hutchinson. In the opening minute and dominated Ajax twice De Jong Sim experience long ichstreli. The 21-minute star hosts Luis Suarez dribble goalkeeper Andreas Isaksson, but failed to steer the ball into the net. Guests responded with dangerous impacts of Toyvonen Ola and Jonathan Rice, but none of them overcame Maarten Stekelenburg.

The second half started with a goal by Marcelo repealed by PSV, and then immediately Stekelenburg prevent Toyvonen to find results. In the 58-minute Demi December Zeuv shoot past the door. Opponents had other chances, but eventually reconciled with equality. In the last minutes rezervara Rasmus Lindgren of Ajax and received a red card.

In the next round Ajax travel to Venlo, and PSV Eindhoven NEC Nijmegen play with.