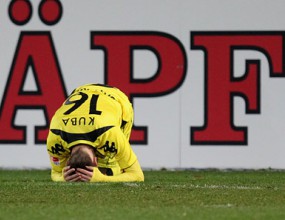 Borussia (Dortmund) wins by 2:1 Freiburg and keep his lead in the first place in the Bundesliga, but that match will be remembered mainly for the incredible omission made midfielder "yellow-black" Jakub Blashchikovski the score 2:1 in favor of dortmundtsi.

A 85-minute of the match: Blashchikovski out alone against an empty door after an assist by Robert Lewandowski, Borussia fans are already enjoying the third goal, but 12 meters soccer shoot high above the door.

"Surely in the next week I'll remind him 2-3 times about this situation. Maybe even play the position of training to show him that from such a situation may be scored. But these things happen, no problem "said coach Jurgen Borussia cluck.

"We are trying not to laugh on the pitch. But then I looked at the face of Lukas Pishchek and endured," admitted the defender Neven Subotic.