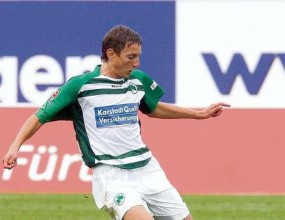 Assen Karaslavov Score Groyter Fürth slammed with 4:0 Paderborn as a guest. This was the first goal of the former Slavia player of the season. For 69 matches he has a total of 4 hits and 2 assists in Germany since 2007

Karaslavov game was held at 90 minutes (his sixth game of the season). In the 48 th Haas centered on a corner and scored with the Bulgarian head of 6 meters. Groyter Furth is 4 and the second division with 23 points, two of the third Duisburg. In the Bundesliga top two teams enter the third play barrage.

A month ago Bild published material Karaslavov. "I'll fight hard for the member in Groyter Fürth. I'm sure if I, Mateus will give me a chance," said defender then.