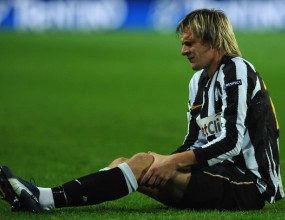 Juventus coach Luigi Del Neri expects a tough match with Genoa today. For the first time this season the team from Turin will play from 13:30 hours and Del Neri joked, saying he hoped the players are not set for an afternoon nap. "We must prepare for a tough test. Genoa record good results recently and the public will support your team with all his strength. However, we will impose their style of play," said Juve coach.

He has not decided whether to run as a holder Milos Krasich. Djokovic recovered from injury, but Del Neri does not want to risk his health. "Even at the lowest risk, Krasich will remain on the bench and will be replaced by David Landzafame. Miloš want to enter in good shape for the next matches. The team has already shown he can win without him."

Del Neri commented on the rumors that may draw in Turin, Antonio Cassano, whose contract with Sampdoria will likely be terminated. "They have worked together and maybe one day will again have this opportunity. Never say" never "was evasive in response to the coach of Juventus.