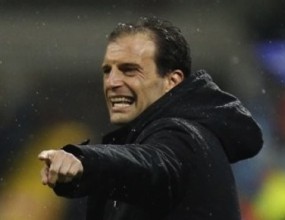 Victory over Fiorentina to AC Milan 1:0 strengthen its leadership position in Serie A, but Milan had a lot to work on to earn three points. Brilliant goal from Zlatan Ibrahimovic and a series of saves maytorski Christian Abiati were the foundation of success and Massimiliano Allegri coach did not fail to praise two characters.

"Zlatan has again demonstrated its superb technique, but it is something normal. It is extremely useful for the team. We play without a typical central striker, so the role of midfielders becomes even more important. I am glad that we showed character, because we under serious strain. Not lost concentration until the end of the match. Of course, Abiati made some excellent saves and also greatly helped to victory, "said Allegri.

Milan coach praised Robinho, but at the end of his speech, stressed that he was pleased by all players, thanks to which the team is presented as successful in the league and the Champions League.