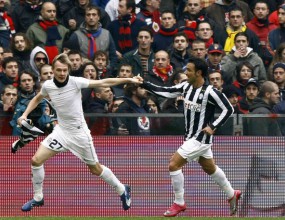 Juventus team ranked third in the standings in Serie A after his success today over Genoa with a 2:0 Stadium Luigi Feraris. 27 hits for multiples champions fell before the break - after an own goal keeper "griffins" Eduardo and good performance of the Serbian midfielder Milos Krasich. Interesting choreography made the hosts typhoid in seconds before the start of the meeting - the sector with the most bitter of typhoid Genoa display plate with knife and fork, which should have invited the boys from "rosoblu" to demolish the Old Lady. Alas, this did not happen.

The first half of the match offer interesting situations at both doors. In 18 minutes Juve reached the goal ahead a little chance, after Claudio Marchisio shoot left, the ball went between the legs of defender of the hosts was weaned from custody Eduardo in the side beam, then the ball came back and hit his head plonzhiraliya goalkeeper to enter the network 1:0. Only four minutes after this curious Portuguese goalkeeper own goal and it was 2:0 for the Turin giants.
The 23-minute samples Krasich perfectly right, shoot sharp, the ball was diverted slightly from Eduardo and eventually got entangled in a web of 2:0. This second hits like wake of David Balardini players and they began to look boldly to the door of Mark Storaro. In 27 minutes Domenico Krishito make nice volley kick to the door of guests, but the top bar was excellent assistant keeper of the Bianconeri. Five minutes later Genoa reached the goal, but because of the game right hand goal was not respected by the chief referee.

In the 39-minute Milos Krasich renew its next portion fantasy, but his best right hand break was not finished with a goal by Vincenzo Iaquinta. 120 seconds later a dangerous cross into the penalty area for a while Juve lead to a reduction of the result, but the ball traveled down to the side beam.
The second half also offer good football, although there were no goals. In the 53-minute shoot Alberto Aquilani dangerous, but it came out in clown out. In the 78-minute reserve in the composition of Genoa Fabio Destro, who is one of hope in Italian football would land, but the ball licked the side beam. In the 82-minute Juventus deployed dangerous counter-action, but Fabio Kualyarela wrong with finishing moves, shooting into the body of Edward. Minute after Hussein sent Harj leather ball into the top beam of the door of Juventus. So with this success in the city of Columbus Juventus won important three points, which the boys of Luigi Del Neri went into the top three of the Calcio - two points of the second Lazio and six by the leader Milan. Genoa remains in ninth place.