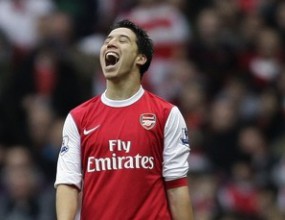 oshite relations between Samir Nasri Gallas and Willy are not new, but the dislike between the two received confirmation yesterday, before the London derby between Arsenal and Tottenham. As promised in the days before the fight, Nasri demonstratively refused to shake the hand of his compatriot and do not stay hidden from television cameras. Gallas in no way seemed affected by the act of their late teammate and friendly is embraced by Bakary Sagna. During the match itself both with Nasri on several occasions went into single combat, but without crossing the boundary of the solid game.

"The reaction of Nasri is shameful, it speaks badly for himself, said after the final whistle, Gallas.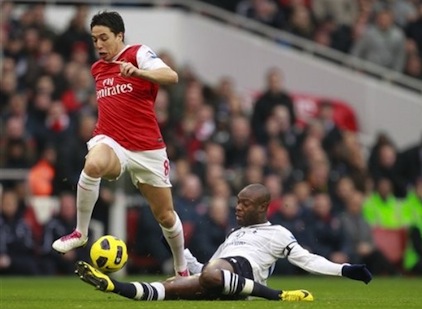 The experienced defender is in conflict with the young star of "ball" from Euro 2008, where "roosters" failed miserably. In his autobiography Nasri Gallas called "little twerp" and illustrated his words with the story of the team bus when Nasri has allowed to sit in place of one of the ringleader - Thierry Henry. This story was not swallowed by Nasri and he admitted that even as teammates at Arsenal he and Gallas have never talked.

Last season in the Premier League had a similar case that was widely publicized by the media. These are notorious love triangle between John Terry, Wayne Bridge and his former girlfriend. Having realized that eksgadzheto of Bridge is lost sight of Terry, all waiting to see how it will behave both in the pitch meeting. And Bridge could not accept the outstretched hand of Terry and it was yaaen sign that their friendship is over.