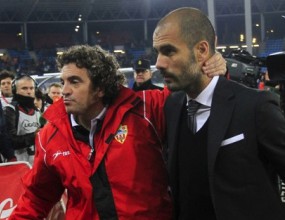 Huanma Liyo no longer senior trenor of Almeria. Last night the team was beaten 0:8 by the Barcelona of his "Mediterraneo" and nerves of President Alfonso Garcia did not pass. "We became a laughing stock. For quite some time I repeat that the team is not the right level and the coach did not properly kept. I must take emergency measures, announced to the media Garcia.

Until a few days the club will convene a meeting, which officially released Liyo.

45-year-old took over Almeria in December last year after the sacking of Hugo Sanchez and help the team from Andalusia to finish the season on 13 th. We Almeria is 18 th position with modest assets of 9 points.