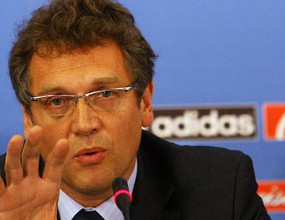 Secretary General of the International Football Federation (FIFA) Jerome Valk ruled out holding an inquiry in respect of the officials of the federation and changes in the voting system in the selection of countries hosting the World Championships. "Sharp criticism came from England, who is shocked by the number of votes received for the candidacy of England, British television channel quoted the statement of Jerome Valk. The vote was on a Thursday and we do not currently intend to raise such questions."

According to the General Secretary of FIFA, FIFA's decision as a whole received positive response and was met very well by the fans, it showed that football is open to the whole world. "

Valk called secret ballot "completely normal process" and rejected calls for investigation into alleged corruption of officials of the organization. "The case is closed. We have taken resolute measures against two representatives of the Executive Committee of FIFA - they are removed from their duties.

It's about the president of the Football Federation of Oceania - Reinaldo Temeri from Tahiti, and the President of the Football Union of West Africa - Amos Adamu of Nigeria. Temeri is removed from any activity connected with football, for one year and fined 5,000 Swiss francs / approximately $ 5,000 /, and Amos was suspended for 3 years and fined 10,000 Swiss francs.