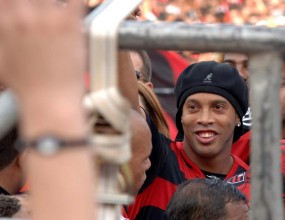 Brazilian superstar Ronaldinho cause great enthusiasm among fans of his new club Flamengo. As is known, the best player in the world for 2004 and 2005, yesterday signed a formal contract for three and a half years with Grand Rio de Janeiro.

Today in Rio over 20,000 exalted fans of "red-black" attended the official presentation of the player that crazy crowd, having thanked them for their support and incredible welcome. Despite the great heat in Rio fiesta lasted more than an hour and looked like a small carnival.


Thousands of fans arrived at based Flamengo club, most of them had already bought the jersey number 10, which will hang Ronnie. Moreover, many fans were put masks with the image of Ronaldinho, who is one of the most beloved players in Brazil over the past 20 years.

Adolescents chose Gremio Flamengo, which it bought for 3.5 million euros in Milan, before returning to his native club.

30 year old techies game in Europe with teams of PSG from 2001-2003, Barcelona from 2003-2008, and in Milan from 2008 to 2011 January.