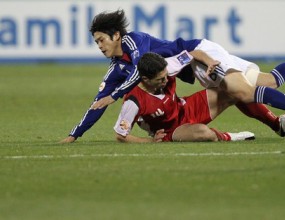 Team Japan record first win of the Asian Cup after success with 2:1 over Syria in their second match of Group "B". After assists Matsui for "samurai" scored Hasebe in 35 minutes. Was equivalent game after goal, but the Syrians have benefited from an error in defense.

Poor ball returned to surprise the Japanese Kavashima goalkeeper, who made a penalty kick, a watchman of Japan with a red card. Thus, in 76-minute Al Hatib equalize the white point. Error protection of Syria, however, bring success to the team from the Land of the Rising Sun. Thus, in the 82nd minute Honda realized from the penalty spot in the middle of the door. In the 95-minute red card received player of Syria.

So Japan garnered four points and is on top in the group with Jordan. Syria has three points, while Saudi Arabia is zero.