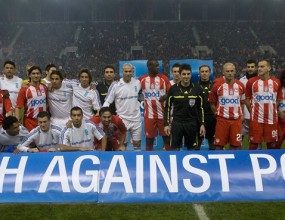 A bunch of former and present football stars took part in the traditional match against poverty on Tuesday evening. The match, which ended 2:2, the stadium of the Greek giants Olympiakos - George Karaiskakis in Piraeus, this was its eighth edition. Match Against Poverty is an initiative organized by the Development Programme of the UN and is supported by UEFA. The meeting was organized with the help of two of the biggest players in football history - Zinedine Zidane and Ronaldo. By means of conducting the match will be supported UN efforts to reduce poverty globally. Zidane and Ronaldo are goodwill ambassadors to the UN.

At the charity match team Zidane, Ronaldo and friends confront the stars of Team Olympiakos. Ronaldo did not participated in the meeting through injury, while Zidane reminded her magical plays an active player of Juventus and Real Madrid.

Team Zidane and Ronaldo was headed by Radomir Antic and Hugo Sanchez, coach of a team Olympiakos was Ernesto Valverde. The team of Ronaldo and Zidane to lead 2:0 with goals by Ricardo Sa Pinto in the first half. At the end of the first part Costas Mitroglu reduced to 1:2, while in the second half tied it again and shape the outcome.

For teams of Zidane, Ronaldo and friends played: Antonis Nikopolidis, Ronald de Boer, Darko Kovacevic, Maamadu Diarra, Nuno Gomes, Sabri Lamushi, Ricardo Sa Pinto, Cornell Rapa, Raul Albion, Yaya Toure, Giovanni van Bronckhorst, Pierre van Hoydonk, Villas, Antar Yahia, Silviu Ilie, Marius Gama.

Team Olympiakos did consisted of current players on the team, as well as former stars of the club by: Giorgos Anatolakis, Predrag Djordjevic, Alexandros Alexandris, Andreas niniadis, Grigoris Georgatos, Darko Kovacevic, Christian Karembeu.