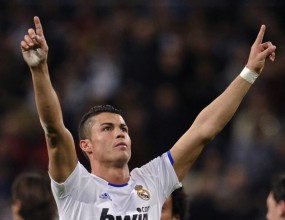 Superstar of world football and scorer of Real (Madrid), Cristiano Ronaldo gave a provocative interview after his team's victory with 5:1 over Athletic (Bilbao) round before the match with Barcelona at Camp Nou next Monday. Portuguese striker scored a hat-trick of success over razkromniya Basque and said it did not bother at all by the fact that "blaugranas" strung eight goals as a guest of Almeria.

"8:0 victory over Barcelona Almeria means nothing to me. Let's see if we scored eight goals for us on Monday," said Cristiano last night.

"Do not fight for golmaystorsko distinction is irrelevant to me. My goal is to win La Liga," added Ronaldo.

He explained the reason to divest of Sergio Ramos a shoot actually get in 57 minutes the score 2:1. "Sergio told me to leave his execution of him and I'm not going to argue with him about such things. He is my teammate and friends. Its purpose was to gain more confidence with this goal and I hope I succeeded."